Are you looking for new Ayurveda dinner recipes to try out? Here are some of my favourite Ayurveda dinner recipes to keep you feeling full, and satisfied!
According to Ayurveda, everything in the world is composed of the five basic elements: air, water, fire, earth, and space. These elements all combine to form the three doshas: vata, kapha and pitta. As different bodies react differently to stimuli, ensuring that these doshas are balanced is key to Ayurvedic thinking!
As Ayurvedic thinking advocates eating healthy food that's designed to cater to these doshas, it's sometimes difficult to find Ayurvedic recipes out there that suit your needs. As Ayurvedic recipes aim to constantly detoxify the body, incorporating mainly fruits, vegetables and herbs, the diet tends to be quite specific. Though the Ayurvedic diet doesn't condemn non-vegetarian food, it's usually considered beneficial to pursue a vegetarian diet.
So, to save you the headache, we've compiled a great list of Ayurvedic dinner recipes that'll set you up for success!
First on my list of delicious Ayurveda dinner recipes, it's this delicious mushy masterpiece of curried lentils! This is a delicious amalgamation of some of Ayurvedic cooking's finest flavours. With sweet, salty, and pungent flavours abound, it's sure to both balance your doshas and act as a lovely winter warmer. As Kitcharis are a key part to Ayurvedic nutrition, it's a great staple to have in your arsenal!
This amazing Pitta recipe is perfect to try in summer time, when you still want to enjoy carbs, but you want the meal to be healthy, light and refreshing. I think this recipe sounds absolutely delicious, and well worth a try! This recipe has a lovely combination of flavors and ingredients that nourish and balance the Pitta dosha, (and would be equally balancing for Kapha dosha too).
Next on my list of delicious Ayurveda dinner recipes, it's a classic vegetable stew. If you're looking to get your glow on and detox your body, an Ayurvedic veggie stew is the perfect way to do so. This is a meal that's great to have year-round and helps to clear any ama (toxins) that may be lurking deep in your body. If you find yourself with a fuzzy mind, this stunning stew is a great way to put the spring back in your step.
Warm, nourishing, and delicious, this is Ayurvedic cooking at its best. If you've got celery, carrots, sweet potato, beets and onion to hand, you can easily recreate this recipe in no time!
This amazing paneer recipe is the next idea on my list of delicious Ayurveda dinner recipes. Though it may look a bit like scrambled eggs at first glance, this dish so much more than that! Made with fresh cilantro, cheese, earthy cumin seeds and spicy chili, this Makai Paneer packs one hell of a punch and is 100% Ayurveda friendly. An extremely simple recipe that contains stark flavours that keep you coming back for more, this is a must try for a light yet satisfying dinner that might just have you coming back for seconds.
Next on my list of delicious Ayurveda dinner recipes, it's a comforting and delicious vegetable curry. If you're looking for an excellent Pitta recipe, look no further than this lush vegetable curry. With the spices in this curry lending incredible flavour, it can be served over rice or with naan to fully take advantage of the rich sauce.
With green beans, carrots and cauliflower taking centre stage, this pitta recipe is the perfect way to improve digestion, metabolism, and body temperature with a simple week-night dinner recipe.
Packed with nutritional stars, this Pitta pacifying bowl is a great dinner idea if you're looking for a hit of veggies and high-quality protein to end your day. Garnished with fresh mint and coriander leaves to pack a nice, herby punch, this nourishing bowl is easily digestible and aims to keep you full and satisfied until breakfast. It's a lovely Ayurveda dinner recipe to try out, and it's really filling and satisfying too!
Red Lentil Kitchari is an absolutely delicious dinner recipe – it's comforting and cosy and it's one of the those recipes you'll go back to again and again. It's definitely one of my favorite Ayurveda dinner recipes. This particular recipe gets the balance of ingredients just right, making it super healthy, but also super tasty.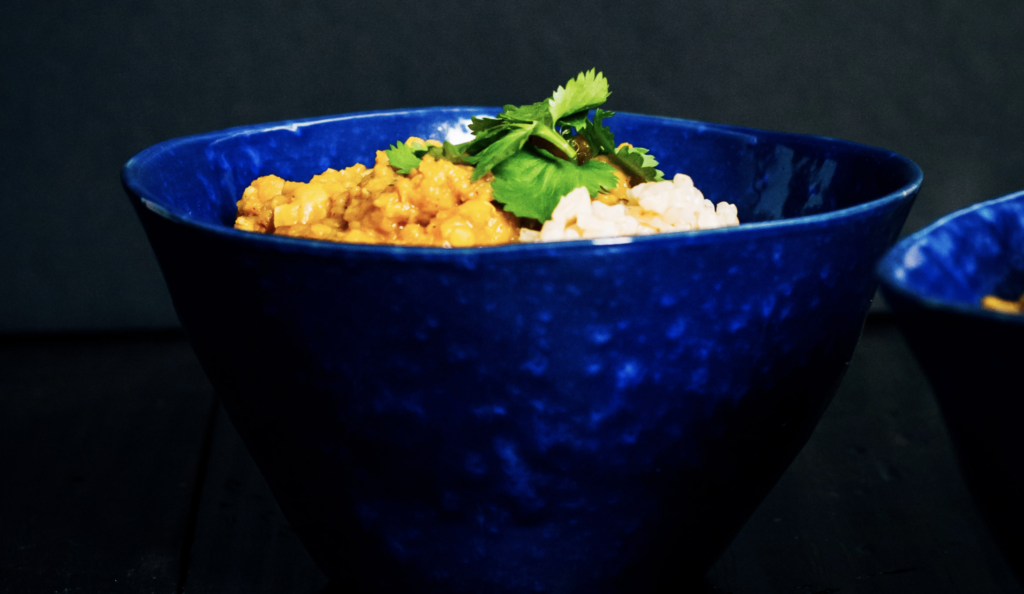 Whether you're going through a detox, need to rebalance your doshas as a Kapha or are just looking for a light and bright meal to get you through the week, then this Lemon Coriander Soup is bound to be a big hit.
Very simple to make (you just need to combine stock, carrots, and cabbage in a large saucepan!), this cilantro garnished wonder is extremely warming and surprisingly filling to boot. This is a great idea for Ayurveda dinner recipes – and it's easy too!
Last on my list of Ayurveda dinner recipes, it's a brown rice khichdi. Brown rice and lentils are nutritional powerhouses and are particularly popular choices amongst Ayurvedic practitioners. The turmeric added to this dish gives it a pleasant yellow hue, and this dish tastes as bright as it looks! With carrots, peas and cauliflower making another appearance in this stunning dish, it's a hearty dinner recipe that the whole family are sure to enjoy.
As brown rice is a highly complex carbohydrate, it's a great way to stay full all evening and prevent those dreaded snack cravings that can hit late at night.
Hopefully this list of Ayurveda dinner recipes has given you lots of inspiration and ideas to try!