So, you've fallen well and truly in love with yoga. 
Hey, we certainly don't blame you. Offering both physical and mental benefits to those that choose to practice it, yoga is something that is ALWAYS a good idea. 
However, it might not always be possible to get to class. Whether you're restricted by distance or time, sometimes it's nice to be able to practice yoga on your own schedule. 
"But where do I start?", you may find yourself asking. Well, that's where we come in. If you're after advice on what you need to practice yoga at home, then look no further, for we've got the skinny on everything you'll need to get that home yoga studio up and running. Whether you're a beginner or an advanced yogi, what you'll need to practice yoga at home will be similar. 
So, if you're looking to take home yoga practice to the next level, then be sure to read ahead, for we've got some great information that will transform that quiet corner in your home from drab to fab!
A program to follow
Now, this one might seem obvious, but we highly recommend choosing a program to follow if you choose to practice yoga at home. Though you might consider yourself something of a professional when it comes to downward dog, having some structure to your practice is key. 
So, be sure to pick up some great yoga DVDs or simply stick on a great yoga YouTube channel for some great free guidance. There are truly so many great practitioners that offer classes free of charge on YouTube, so you'd be foolish to pass up the opportunity to stream some great content for nothing!
As you won't get the same hands-on direction when you practice yoga at home, be sure to keep an eye on your form and be sure to keep things within your skill level. The last thing you want to do is to buckle during a difficult move and find yourself in the ER – not so Zen.
A quiet and suitable space
Again, this is possibly a no-brainer, but you'd be surprised at just how many home-yogis try to get by in a cluttered and noisy space. By its very nature, yoga is supposed to be a calming and spiritual practice, so try and set up a space away from prying eyes that will be your relaxation station when it comes to home practice.  
Choosing a dedicated space can really make the world of difference when it comes to practicing yoga at home as it truly grounds and inspires you. If you're feeling inspired, you're a lot more likely to be productive and focused – so keep that in mind!
Some great equipment
It's likely that you'll already own a great deal of yoga equipment if you're not a beginner. However, if you're choosing to practice yoga at home, you'll probably want to pick up a few more bits and pieces to really elevate your sessions. 
Obviously, you'll want a great yoga mat. If you really want to take things further though, why not consider some yoga blocks, straps, bolsters, and other great yoga pieces to improve your mobility from the comfort of your own home? Usually these items are offered in a class environment, but if you want to practice yoga at home, you'll have to source these pieces yourself!
Feel free to check out our list of some must-have yoga accessories if you're lacking inspiration. Trust us, there's more than enough great gear on there to geot your home studio off to a roaring start! 
A clear vision of style
Though beginners may think that yoga is just one type of activity, there are quite a few different subsections to the practice that you should be aware of if you wish to practice yoga at home. 
For example, on some days, you might want to give dynamic yoga a try. On others, simpler classes will be the ones to fit the bill. We're not joking when we say that there's a whole host of different yoga styles to investigate including (but not limited to) the ones below:
Mandala
Rocket
Vinyasa
Iyengar
Kundalini
Hatha
Yin-Yang
Nidra
Hot
Qi Jong
Do you see what we mean? Depending on the time of day, your personal goals, and how you're feeling in your own body, you may wish to investigate different styles to suit your needs. Yoga is a relatively complex beast, so be sure to do your research if you're practicing yoga at home, as you may just miss some hidden yoga gems that you end up loving. 
Some time
If you're practicing yoga at home, you'll need to set aside a chunk of time for your session. Whether you choose to practice daily or just once during the week, you'll need some uninterrupted "you-time" to really reap the benefits of the practice. 
We get it, you may work from home or have raucous children around for part of the day which can make it difficult to really get in the zone. So, whether you have 10 minutes to spare or 90 minutes to spare, just be sure to carve out some time for a great class at home!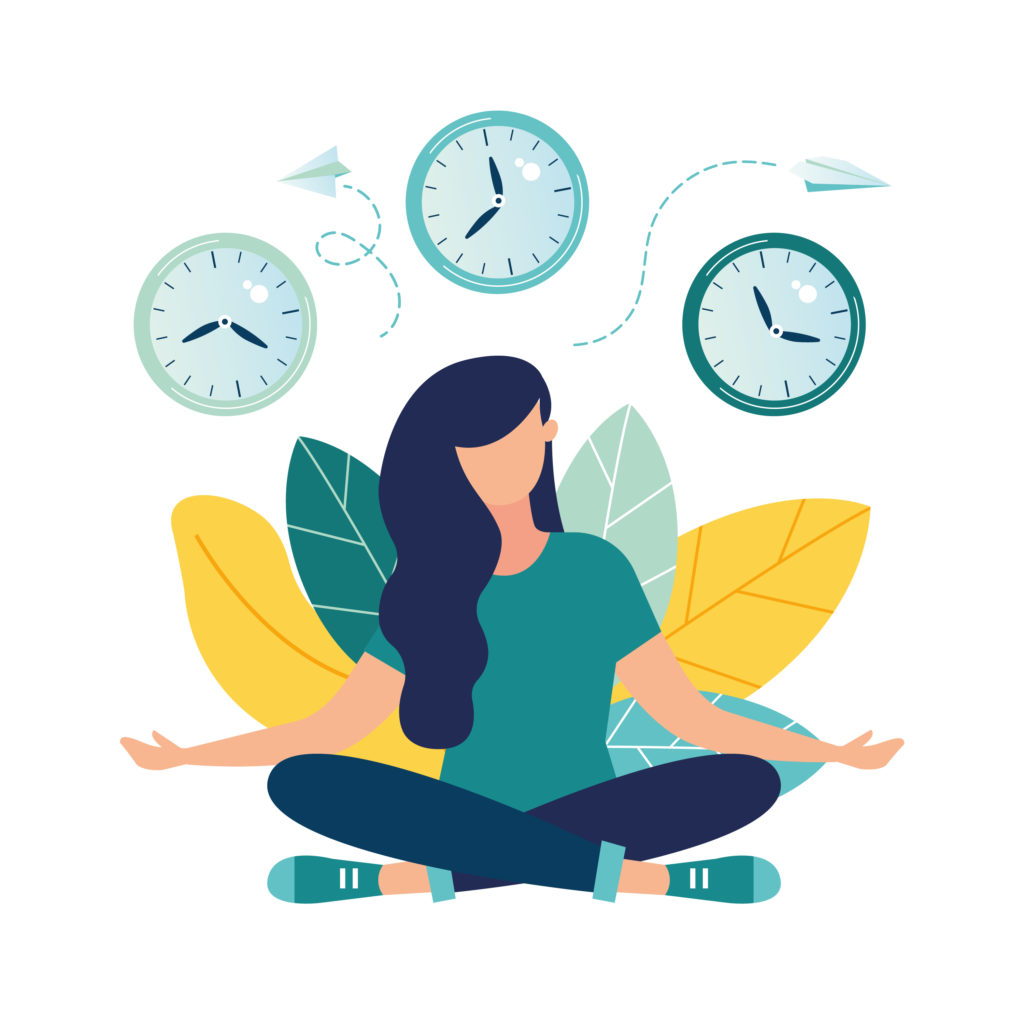 Some background music
Okay, this may not be for everyone, but sometimes having some great meditative music can be an excellent addition to home yoga practice. So, if you're looking to exclusively practice yoga at home, then why not try some music in the background of your classes? There are tons of options on YouTube when it comes to meditative music, so just scour through the options, and get choosing! 
Breathe in… breathe out…
The ability to choose poses that you love
When it comes to practicing yoga at home, you really are your own boss. You don't need to follow the instructions of a teacher if you don't want to. 
In fact, if you wish to you can create your very own series of poses and stretches based on how you're feeling on a particular day! So, one of the things that you'll need to practice yoga at home is a set of great, reliable poses. 
If you're a newbie, just look on the web and pick out some familiar poses to get started with. If you're more advanced, feel free to cobble together a combination of your favorite poses from class. 
A final note from us
Realistically, it's easy to start practicing yoga at home. Though you might be concerned about taking the leap from classes, with some confidence and know-how, you'll be a home-grown yogi in no time. 
Of course, many yogis that choose to practice at home will still attend classes too and that's great! Not only will at-home yoga practice help to cement what you learn in class, but it will allow you to blow your teacher away the next time you see them. Talk about a win-win!
Just be sure to keep your technique in check, don't overextend yourself, and keep things safe! Only you can know your own limits, so challenge yourself, align your mind, and simply do your best with the equipment that you have.
Happy posing!