Are you hoping to learn more about Gua Sha Tools, and how to use them? Then keep reading!
You've probably heard of the benefits of Gua Sha, and if you're looking for more information on using Gua Sha Tools, and the best Gua Sha Tools out there at the moment… Hopefully this blog post will give you all the info you need!
There's honestly nothing better than fantastic facial structure, and Gua Sha tools are one of the ways to achieve it. Though some of us are born with chiseled cheekbones and fantastic jawlines, for most of the population we've got to work that little bit harder for that sculpted look. So, just how can the average person go about sculpting their face without invasive procedures? Well, we're happy to tell you that there are some excellent science-backed skincare tools that will get you those cheekbones that you've been lusting after. 
Gua Sha is the answer.. and it's not just amazing for improving your facial structure. It can also help relax you, de-stress and massage your skin too! In this blog post we'll be talking about the best Gua Sha tools out there at the moment, and how to use them!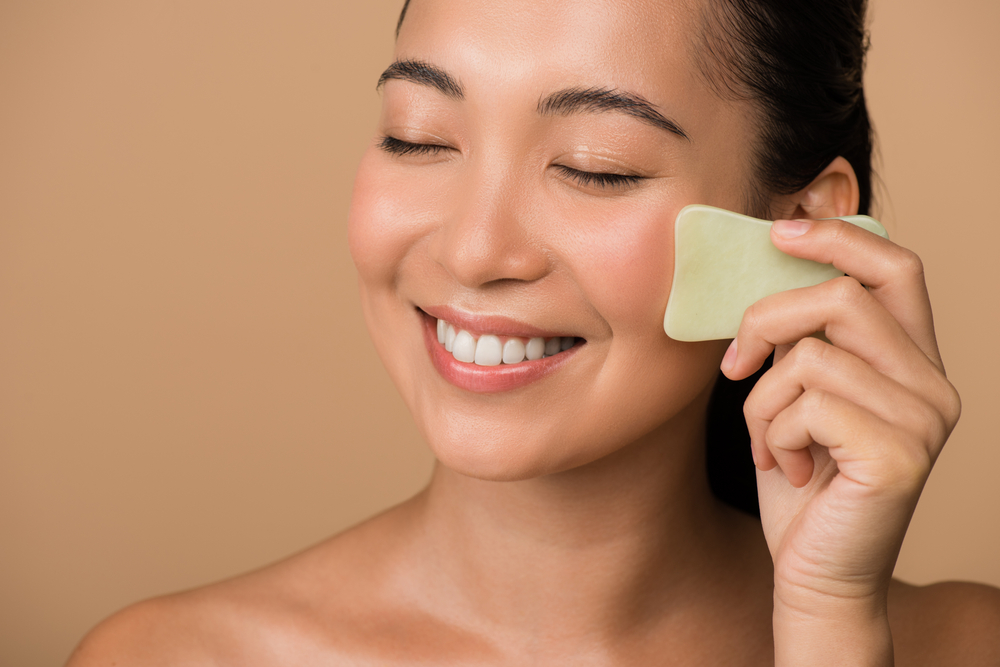 You may have heard of gua sha – essentially a traditional Chinese skincare technique that's designed to sculpt and drain the lymphatic areas around the face. These gua sha tools are quite literally nifty little scraping tools that are made from stones that help with increasing blood circulation. With regular use, gua sha should help to sculpt the face, move lymph fluid effectively out of the body and give you that wonderful, toned look that we're all after.
Though this may sound too good to be true, we can assure you that the best gua sha tools are both readily available and easy to use! So, if you're entirely new to the gua sha and facial massage game, read ahead, for we're about to shed some much-needed light on these miraculous little tools. 
Ready to sculpt? Let's go. 
---
The Best Gua Sha Tools
---
Now, you needn't spend a fortune on gua sha tools for them to make a difference to your overall skin health. Sure, there are some excellent high-end options that we're cover on our list of the best gua sha tools but spending most of your monthly paycheck on a sculpting tool is perhaps beyond reason for most of us!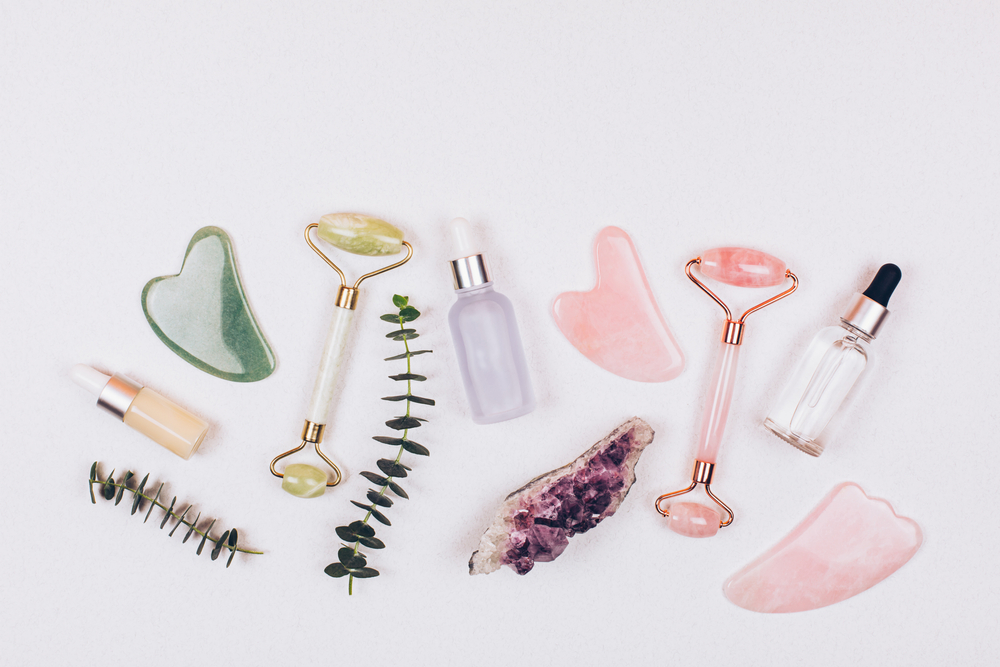 Ollimy Natural Jade Gua Sha Massage Set
If you're looking for a simple, yet functional gua sha tool, then be sure to check out this offering from Ollimy. Made from 100% natural rose quartz, this pink jade facial massage tool is said to be beneficial to both the skin and the surrounding lymphatic tissue. As this is a slightly thicker gua sha tool than some of the others on our list, it's great for those looking to apply more pressure during facial massage. 
Odacité Crystal Contour Gua Sha
Another one of the best gua sha tools is this piece from Odacité. Though this is one of the more expensive options on our list, it's by far one of the most effective. Said to lift and revitalize skin whilst reducing the look of dark circles and puffiness, this gua sha tool is one of the best in the biz. What makes this gua sha tool so great is that it's larger than the typical tool. So, if you tend to struggle with your grip during facial massage, then this is sure to be a great option.
Medical Grade Stainless Steel Gua Sha
If you're looking for a truly intense experience, then we highly recommend this Medical Grade Stainless Steel Gua Sha from the H-Brotaco Store. Though you might be put off by the words 'Medical Grade', don't be! Your facial massage won't be anything like being in the hospital – we promise! Crafted with premium-grade stainless steel, this gua sha tool is extremely durable. So, you needn't worry about it cracking on the bathroom tiling on those sleeping mornings…
HEART CAN FEEL Gua Sha Tool
If you're after a gua sha tool that has a slightly different shape, then why not check out this product from HEART CAN FEEL? With a great design that's suitable for facial scraping, this jade gua sha is excellent for anti-aging, detoxification, and tightening loose skin. What we love about this gua sha tool is that it comes with a 70-page instructional e-book on how to use the product. So, you'll never be stuck with gua sha confusion ever again!
StoneStory Healing Crystal Rose Quartz Heart Gua Sha
The final option on our list of the best gua sha tools on the market is this one from StoneStory. Though we may be slightly biased towards this tool due to its adorable appearance, it does do an exceptional job of clearing the skin of fine lines and lifting the skin to retain a youthful glow. Safe to use and easy to bring on the go due to a small carrying case, it's an excellent choice for frequent flyers too! 
---
How to use Gua Sha tools
Now that you have some great gua sha tools to add to your basket, you may be wondering exactly how to use these little wonders. Well, simply see below for some easy to follow instructions that will have your face lifted in no time! 
Before you start, make sure your face is clean and toned with your usual lotions and potions. After that you'll want to follow the instructions below to get the most out of your new tool!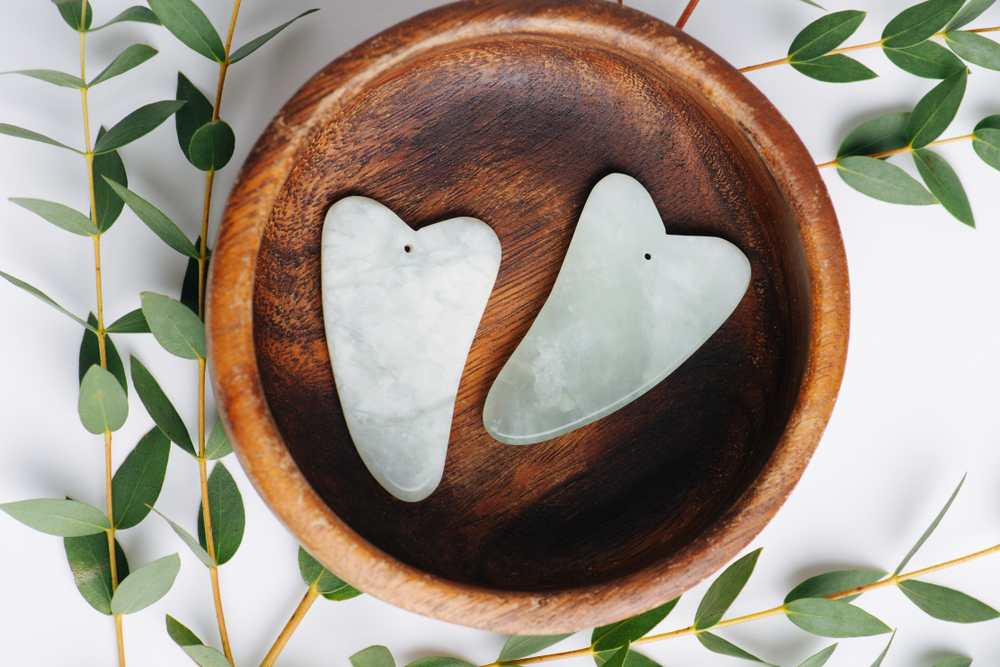 Be sure to use a facial oil when using your Gua Sha Tools
When you're performing gua sha massage, you really want to use a facial oil. If you're wondering why this is, it's because you need to have the necessary glide on the skin that allows the gua sha to do its work. Otherwise, you're essentially dragging your skin and making it irritated – not good! Rosehip oil, jojoba oil, and other delicate oils are excellent for use with gua sha as not only do they provide the necessary slip on the skin, but they're also highly nourishing to boot. 
Always move in upward motions
As you're wanting to keep the skin lifted, you don't want to use downward strokes. Instead, lift the skin upwards and towards the lymph nodes. If you're using your gua sha on the eyes, you may wish to lightly press on the area to encourage drainage. 
We recommend using enough pressure that you feel those facial muscles working, but not so much that you're genuinely hurting yourself. After all, you don't want to stress that skin out!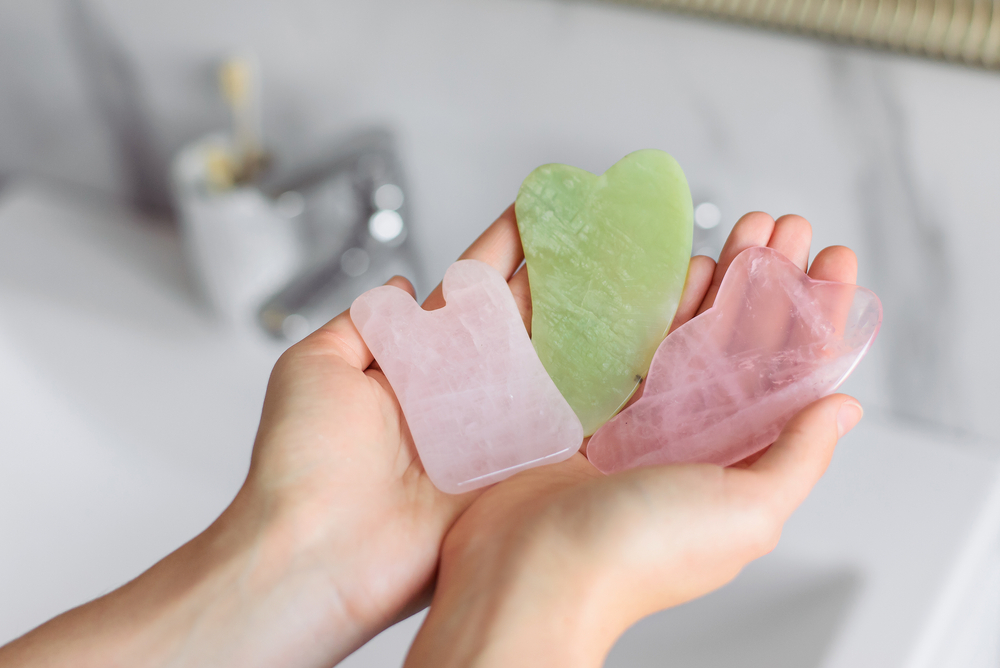 ---
How often do I need to Gua Sha?
We don't recommend doing facial massage every day. Realistically, not only is that likely to be too time consuming, but you want to give the skin time to drain between massages. Whether you do it in the morning or at night isn't important, but most people tend to prefer using their tools at night to give the skin time to relax! 
If you're feeling really stuck, you can always hop onto YouTube and check out how the professionals get their gua sha done. Sometimes it's easier to see how it's done directly, so just go with whatever works for you! 
---
We hope that this guide to the best gua sha tools and how to use them has been useful in starting your skincare journey.
Facial massage is one of the best anti-aging processes that you can add into your routine, so be sure to do your research and get started!