If you're looking to learn more about the different types of Gua Sha tools, and want to know how to use them properly – take a read! We've got all the answers you need.
If you're looking to learn more about gua sha stones and how to use them, then you've come to the right place. With all the skincare mumbo-jumbo that's floating around out there, it can be difficult to pin down the perfect products and tools for your personal regimen. 
Never fear, however, as we've got a handy guide that covers everything you need to know about different types of gua sha stones! Though you may already be familiar with gua sha, you might not know these nifty little skincare devices come in a variety of different materials that offer different skincare benefits to the user.
So, to save yourself the hassle and get those results in as few sessions as possible, you may want to do a bit of research if you want to cure puffy eyes versus that stiff neck of yours! 
Realistically, whether you're looking to expand your skincare arsenal or are simply curious about what benefits different types of gua sha stones can offer, then be sure to read ahead! Who knows? You may just find your new favorite beauty tool within this very text!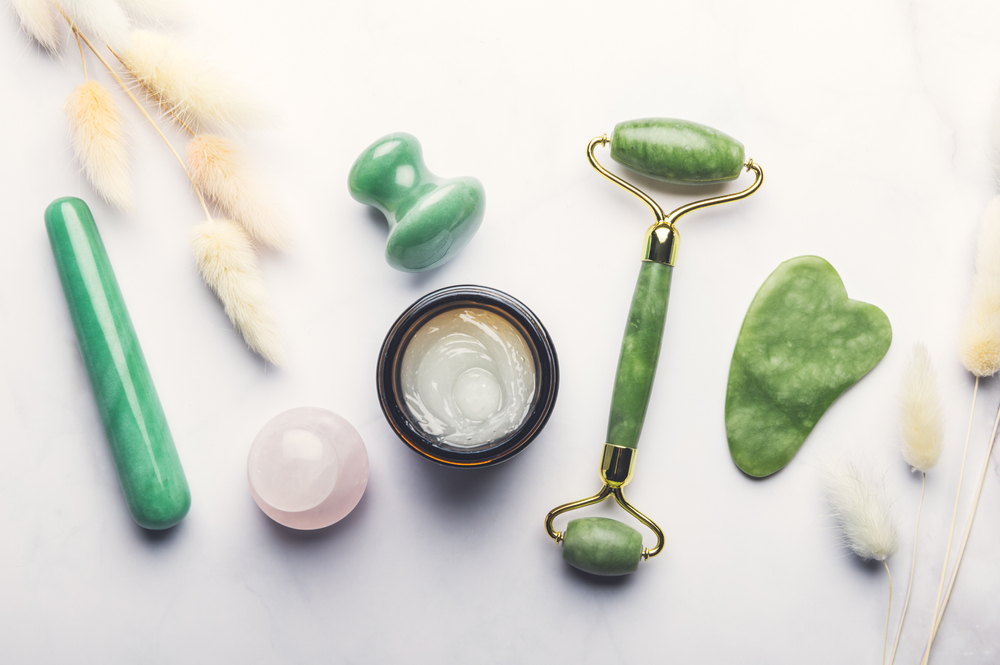 ---
What are gua sha stones?
If you're an absolute newbie to the gua sha game, then you may be wondering exactly what gua sha stones are, and what the different types of Gua Sha tools are too. There's a big variety, so getting to know the different types of Gua Sha tools is important before you dive in!
You'll be pleased to know that they're not overly complex tools. Essentially flat tools that are molded with dents and curves, they're built to massage skin tissue and drain the surrounding lymph nodes of any unnecessary fluid. 
Though you don't have to stick directly to the advice of professionals, it's generally accepted that the more curves and edges that a tool possesses, the more advanced it is. So, if you're a beginner, you may want to stick to a simple gua sha tool until you get accustomed to the art of facial massage! 

---
So, let's discover more about the different types of Gua Sha tools…
There are plenty of different types of Gua Sha tools, and picking the right kind of Gua Sha tools for what purpose you require it for will be really important in getting what you need from them.
Rose Quartz Gua Sha
First on my list of the different types of Gua Sha tools, it's Rose Quartz. This is one of the most popular gua sha stones out there. Said to be inherently calming and perfect for use on sensitive skin, Rose Quartz the perfect gua sha stone for those with skin complications, or reactive skin. So, if you're suffering with rosacea and acne, it's well worth adding a Rose Quartz gua sha to your basket. 
Jade Gua Sha
Jade is next on my list of the different types of Gua Sha tools. It is likely to be the gua sha that you're most familiar with, and is quite a popular choice for beginners practising Gua Sha too. As Jade has a naturally cooling effect on the skin, it's great for keeping your skin at an ideal temperature as you really work those muscles. What's more, it's said to harvest a great deal of qi energy which can balance the body and place it in an optimal state of balance. 
Green Aventurine Gua Sha
Though this stone is slightly less common than Jade in the gua sha world, Green Aventurine is said to be excellent for reducing wrinkles and encouraging skin turnover. If you're struggling with premature aging or pesky frown lines, then this is an excellent gua sha stone to consider. 
Amethyst Gua Sha
Though you may only be familiar with Amethyst in jewelry, it' also happens to be extremely popular within the skincare world too! Said to have an excellent cooling effect on the skin that helps to loosen tight muscles and prevent wrinkles, it's the perfect anti-inflammatory little wonder to keep in your medicine cabinet for those extra-stressful days.
Bian stone Gua Sha
Last on my list of the different types of Gua Sha tools, it's Bian. Bian stone is slightly different to its counterparts, as it is often said to be the 'original' gua sha. What's more, the Bian stone also has a very high rate of electronic pulses, so it's great if you're looking for deeper muscle work. 
---
How to use gua sha stones
Though gua sha stones can vary in appearance, they're pretty similar when it comes to use. 
The first thing that we must mention is that you need to make sure you invest in a good facial oil. Trust us, the last thing you want to do is scrape a gua sha stone directly across your face. Not only will you not reap the full benefit of the tool, but you're likely to end up with a slightly ragged face (which is not what you want!). 
So, simply apply a good facial oil to your skin, pick up your gua sha tool and start lifting from the neck upwards. When you're using a gua sha tool, you always want to move upwards, as you're aiming to both drain and lift the skin.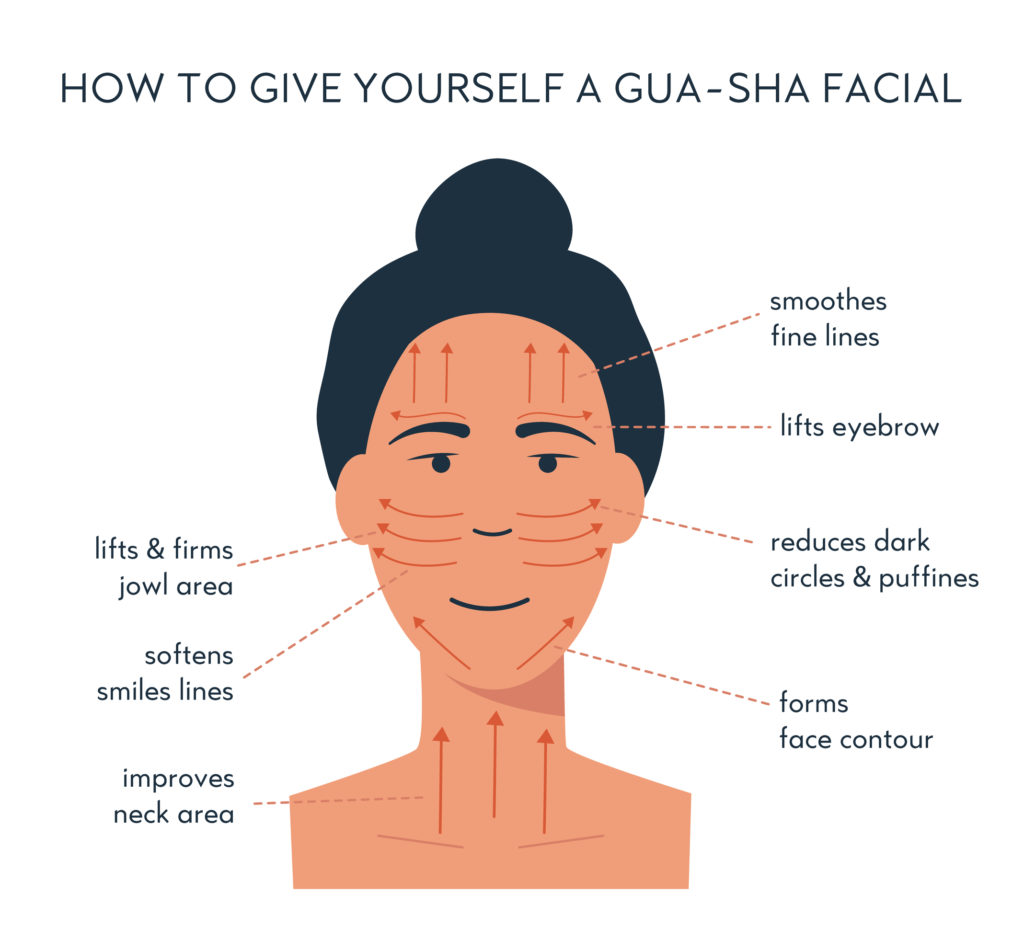 When you're using your gua sha, you'll want to focus on the jawline, cheeks, and forehead where you're likely to hold the most tension. Unlike a facial roller, you'll want to hold the tool close to your face and almost swipe upwards with pressure. We suppose that 'scraping' may be the best term to use here! 
As you're aiming to calm the fascia in the face and release any muscular tension, you will need to apply a firm and deliberate pressure. Don't be afraid – your facial muscles can take quite a bit of force. However, just be sure to stop before you feel any muscular pain – you don't want to go THAT deep. 
After you finish your facial massage, you'll want to gently scrape the tool down your neck to fully drain the lymph. If you miss this step, you're missing out, as this is where the magic really happens. Your body wants to drain any toxins it may be holding onto, so let that gua sha do its work and finish off with the neck! You won't be sorry. 
We hope that this guide to the different gua sha tools and how to use them has been useful. Though you may be slightly skeptical, we promise that these wonderful tools will serve you well down the line. 
So, get scraping! 
I hope this guide to the different types of gua sha tools has been useful!
---
Did you find this information useful?
If you've found this information useful, and would like to say thank you for providing the information for free, you can support Ayurveda for Beginners by buying me a coffee below! It's a small way to say thank you, and I really appreciate it!