Are you looking for some inspiration for your Ayurveda breakfast recipes? Hopefully this list will give you plenty of ideas!
If you're looking for delicious Ayurveda breakfast recipes, you're going to love these ideas.
It's often said that breakfast is the most important meal of the day, and in Ayurvedic nutrition, this is certainly the case. Depending on your dosha balance, a healthy breakfast is crucial in creating the right conditions for optimal digestion. Breakfast the Ayurvedic way does require sitting down and eating a meal, so if your way of playing the breakfast game is snaffling a bagel on your way to the office, you might need to rethink a thing or two. A little extra time and effort early in the day can set your body just right, and set you up for a productive and energetic day.
If you're someone that absolutely needs a solid breakfast to get up and go, then look no further, as we've amassed a great list of Ayurvedic breakfast recipes that will have you leaping out of your duvet cocoon! 
A popular breakfast choice across the globe, this Ayurvedic porridge is a delicious, detoxifying take on your regular bowl of oatmeal. Served with ghee, dates, cinnamon, and turmeric powder, it's full of anti-inflammatory ingredients that will keep the digestive system ticking. Equally packed with fibre, this is a great choice for those busy types that need something to keep them fuelled throughout the morning.
A bonus to this dish is that you can always top your oats off with extras that cater to you dosha. For Vata types, try ripe bananas or some shredded almonds. Pitta dominant? Apples, berries, and ground flax are your friends. Finally, if you're a Kapha, try adding some coconut or walnuts to really amp this recipe up.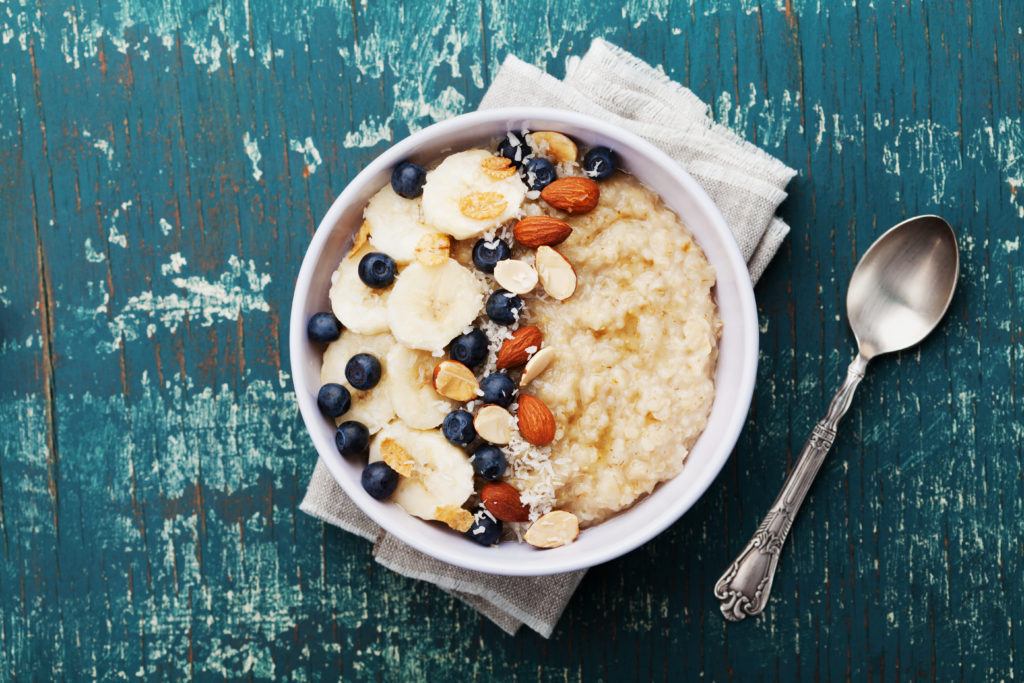 A delicious breakfast that's quick and easy to make is this rice pudding. Whether you're a Vata, Kapha or Pitta type, this breakfast can be altered to suit you. Kapha types may prefer to use goat or soy milk, whilst Pitta types should hold back on the cinnamon.
As white basmati rice is easier to digest than brown rice, it should be the rice of choice for those looking to adhere strictly to the Ayurvedic method. With optional sweetness from honey, ghee, or maple syrup, it's the perfect breakfast pick-me-up for those dreary mornings. 
Omelettes are surprisingly popular in India, and with infinite combinations that suit all palates, it's a great, hardy breakfast that's sure to set you up for the day. This omelette has a kick to it, as it's both thicker than traditional omelettes and is cooked with small green chillies. Packed with vegetables and bound to keep you full until lunchtime, this is a cracking Ayurvedic recipe for any dosha type.
If getting your 5-a-day is a constant struggle, give this Sweet Potato Ayurvedic Smoothie a try for your next breakfast. If you're looking for something fruit-free so that you're not starting your day with a sugar bomb, this is a more easily digestible version of that insta-famous green smoothie that you keep seeing on your feed. Slightly sweet but packed with warming spices, this is the world's easiest way to get more veggies into your day. Consider us sold.
Packed with ginger, turmeric, cinnamon, and cardamom, this granola has a chai-like flavour that's both holistic and soothing. If you tend to opt for a chai latte to start your day, why not swap it out for this much more nutrient-dense granola? Delicious with plant milk or vegan yogurt (ayurvedic friendly of course), this breakfast is great for granola lovers that don't dig the sugars added to most store-bought brands. 
Beautifully simple and packed with cleansing ingredients, this ayurvedic breakfast idea is cleansing, tart and sweet all at once. A great light breakfast for the Kapha doshas out there, this grapefruit topped with warming spices is the perfect, low-calorie way to get your metabolism revved up. With the added benefit of flushing out deeply lodged toxins, this may be the most important meal of the day in more ways than one.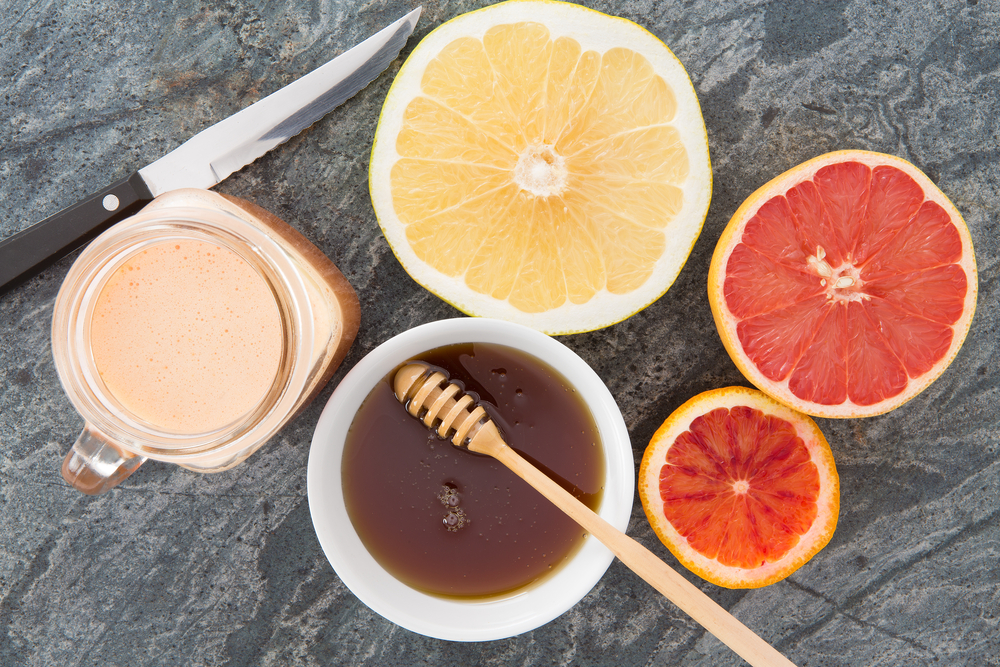 Another amazing Ayurveda recipe is this great overnight oats recipe. It's a nourishing powerhouse of anti-inflammatory ingredients and it basically combines two of the most classic and delicious Ayurveda recipes into one handy smoothie! With tangy ginger and healing turmeric, it's easy to see why this placates the Vata dosha. 
The best thing about an Ayurveda breakfast bowl, is that you can design it to suit you (and your dosha mind-body type). This means you only need put in your breakfast bowl the kind of things that will keep you in balance. For example, if you're a Kapha and you need to keep away from overly heavy substances in the morning, you can design your bowl to be light and refreshing.
Or maybe you're the opposite, and you and onset of energy in the morning to get your body awake and active – if that's you, then filling your bowl with nuts, seeds and oats might be ideal.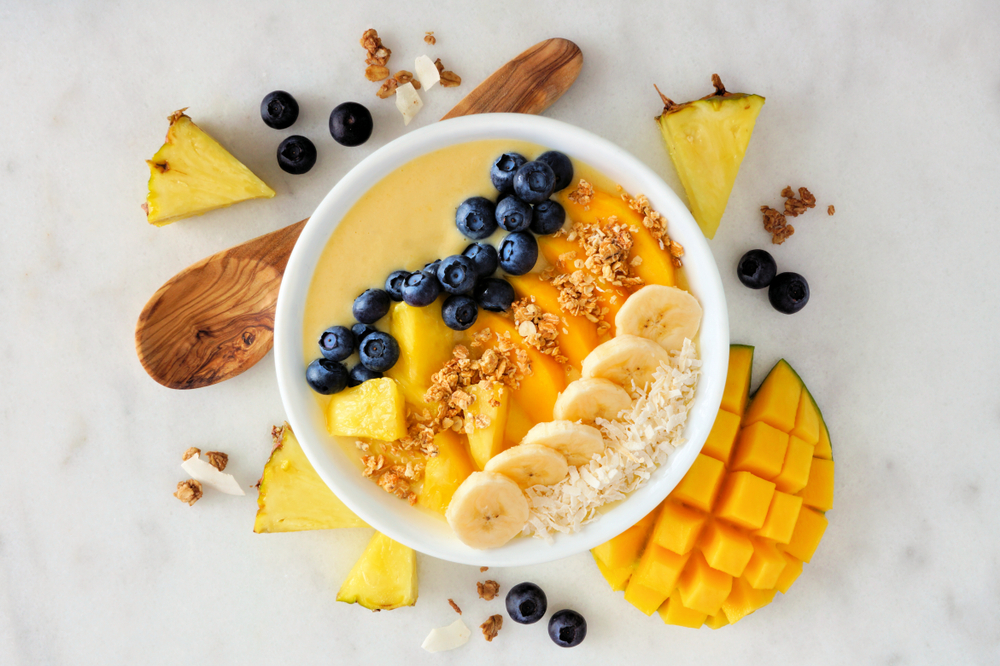 If you prefer something quick in the morning, and usually only have time to grab a drink as you leave the house – then Golden Milk is a fantastic choice for you. In the winter months you can have it warm (to give you all the cosy vibes) and in the summer, you could make it the night before and chill it for the morning – as a refreshing start to the day.
I hope that you've found a recipe on this list that satisfies your personal Ayurvedic make-up in this list of Ayurveda breakfast recipes!
Just remember, never skip breakfast! It's a major no-no under Ayurvedic teachings, so be sure to give one of these a whirl for a satisfying and delicious start to the day. 
---
Did you find this information useful?
If you've found this information useful, and would like to say thank you for providing the information for free, you can support Ayurveda for Beginners by buying me a coffee below! It's a small way to say thank you, and I really appreciate it!
Click here to buy me a coffee 🙂
---
While you're here, why not stock up on these Ayurvedic cooking essentials?
I wanted to finish this article by recommending some must-have Ayurvedic cooking ingredients to you, that I find are always useful to have in your cupboards. When I have these key ingredients, I find I'm always ready to make something delicious and wholesome.